The Canadian Guide to Corporate Massage
If your business is planning to add corporate mobile chair massage to its wellness program, or offer chair massage during an employee appreciation event then this guide is for you. The Canadian Guide to Corporate Massage covers how to build a business case for massage in the office, plan the ideal massage day, find the right corporate event massage partner, setup massage schedules and everything else you'll need to successfully run your company's first massage event or corporate massage program.
A quick intro: What is Mobile Chair Massage?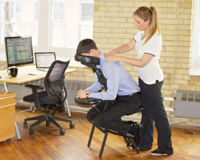 Mobile chair massage, also called seated massage or chair massage, is a style of massage that is perfectly suited for the workplace. It requires very minimal space and little to no privacy. It is a convenient and effective method of stress-relief that will relax and reward your employees in just a few minutes. Performed by a massage therapist or certified massage practitioner, the massage typically covers key tension areas in the back, neck, shoulders, arms, and hands. Mobile massage is ideal for, but not limited to any employee who: sits at a desk all day, stands for the majority of their shift, completes repetitive tasks such as keyboarding or assembly, holds a high stress position such as in a call centre, law firm, or accounting office during tax season.
What's in this guide:
This guide is designed to answer the frequently asked questions of corporate mobile massage. It covers the who, what, when, where, and why's of chair massage, and will delve into some of the nitty gritty of planning your first massage event. This guide will take you from newbie to know-it-all and give you the confidence to make the decision or present the proposal for chair massage in your workplace. It will answer your questions such as "What are the benefits of chair massage in the workplace?" and "Who should pay for the massage sessions, the employees or the company?". So if you're wondering if massage in the office is right for your company or simply overwhelmed planning your first event this guide is here to help.
Chapter 1:

Building a business case

Need help articulating to the boss why a corporate onsite massage program is great for employees AND the company's bottom line?
Chapter 2:

Common mistakes to avoid

Before you get too far, let's dispel some myths about health benefits and insurance coverage to help you steer clear of trying to have employees pay for their own massages.
Chapter 3:

Planning your corporate massage event

Are you responsible for planning and determining the budget for your businesses onsite massage day? These corporate massage planning tips will help you move to the next step.
Chapter 4:

Running your corporate massage event

Your massage at work day is booked! Now get some pointers to help prepare for a successful day, including a scheduling template.
A note from the guide's author:
Massage At Work has been providing corporate mobile massage in Canada since 2002. We've had the honour of helping a wide range of Canadian companies with their onsite massage programs. From Fortune 500 companies headquartered in major city centers to multi-location franchise businesses, from call centres to industrial kitchens, and from schools to medical and dental offices. Many of the programs have been up and running for years, and we've been going onsite month after month to massage their employees.
Our success and the growth of the industry as a whole has lead to a year over year increase in requests for our onsite mobile massage services. It's no surprise that more and more of Canada's leading employers are taking an active role in the health and well being of their employees. So what do they know that others don't? It's simple, they've done the math and determined that a healthy, stress-free employee is an employee who is in the best position to make a positive contribution to the company and its bottom line.
Regardless of what industry a company is in, or what service it offers, its most important asset is always its people. So creating a comprehensive wellness program that includes onsite mobile massage, to take the best care possible of those people, makes perfect business sense.
As demand for onsite mobile massage grows, so too does the complexity of finding a corporate mobile massage partner, organizing an event, digitally scheduling an event, and running a seamless stress-free massage day that sees everyone in the company receive a stress relieving massage. It is these growing complexities that have led us to create this guide. We encountered so many Canadian businesses facing the same challenges and asking the same questions that we decided to document our approach to mobile massage and detail the steps a company should take when onboarding a corporate massage partner and starting a program.
We hope you will get value out of this guide. If you have any questions or would like to offer feedback, we'd love to hear from you so please contact us via our website main page. Thank you for your time and your consideration and we wish you the best of luck in planning and running your corporate mobile massage program!
A note from some of our clients:
"We have been using Massage At Work since 2010 and we HIGHLY recommend them to anyone looking to integrate a massage program into their office as an employee benefit. We have always received fantastic service from the admin team and outstanding treatment from their chair massage practitioners."

~ President & CEO, Insurance Insight
"Massage At Work pulled together a big event for us in an extremely short amount of time. Their administrative team was amazing to deal with, and their practitioners were excellent. I would definitely recommend their service to any company looking for a compelling way to reward their employees"

~ General Manager of Sales, Bell Canada
"The event was a huge hit! Our employees were ecstatic. I genuinely appreciate your communications and all in all, I am very happy and would love an opportunity to work with you again."

~ Program Specialist, Lululemon
"Everything was amazing yesterday, and our employees really enjoyed the massages. Your team is awesome! I look forward to working with you again in future!"

~ Corporate Program & Event Management Coordinator, Fidelity
"Just wanted to pass on a big "THANK YOU" from the Travelers Team for an amazing few days of Massage at Work sessions. It was a great morale boosting incentive for everyone that was able to participate. Spots filled up fast – thank you for all your patience and professionalism. The practitioners were all very skilled and very knowledgeable in their profession. We are hoping to make this an on-going incentive for all of our employees and working with our HR department and Senior Management Team and will keep you posted. Thank you again."

~ Senior Administrative Assistant, Travelers
About the
Guide Authors: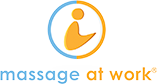 #1 in 5-star



Google ratings
in Canada
185,422
Stress-melting massages given
As Canada's largest provider of onsite mobile chair massage services, we are helping Canada's leading employers get the most from their corporate massage programs.