Frequently Asked Questions about Onsite Massage for Employees
An increasing number of companies are becoming aware of, and discovering for themselves, the immense array of benefits that chair massage brings to both employees and employers alike. If you are still undecided as to whether or not to introduce massage days to your workplace as a health and wellness initiative, perk, or incentive, or maybe you have made your decision and are just getting started, you likely have a few questions.
Planning an onsite massage day for an office or workplace shouldn't be a stressful undertaking. Starting here on the FAQ page will introduce you to what you will need to make your company massage event a success. In this article, we've answered the top most-frequently-asked questions about how an onsite corporate massage day typically works and we'll give you the insights you'll need to plan and run the best onsite massage day possible for your employees!
If you prefer, watch this video for an overview of what chair massage in the office looks like.
Frequently asked questions about onsite massage:
1. How much does a chair massage cost?
Corporate chair massage sessions are typically charged at an hourly rate, rather than per massage. The hourly rate applies to the time that a massage practitioner/therapist is required to be onsite. To determine the number of hours needed we use a combination of: the number of people getting a massage, the duration of each chair massage session, and your budget.
To determine the number of hours needed your massage partner will ask for three main pieces of information:
How many people are in your company / how many people do you anticipate will want to receive a massage?
What length of massage session would you like each person to receive?
What is your budget?
Total budget divided by the number of people will give you the session length available. Total budget divided by the session length will give you the number of people who can receive a massage.
If you really have no idea of what to offer to whom, your massage company will be able to offer a few suggestions of what you can offer in terms of how many minutes of massage to how many people.
Please note: You will want to work with your massage company to determine accurate numbers as they often use a slightly modified calculation in order to allott their massage practitioners/therapists ample and necessary break time throughout the day.
Once the total number of hours is determined, ultimately the pricing for chair massage hinges on two key elements: location and the total number of hours booked. The cost is typically calculated by an hourly rate multiplied by the total number of massage practitioner/therapist hours needed for your massage event. Rates vary from province to province and city to city based on practitioner/therapist availability, demand, travel and overall cost of doing business. Your massage partner will be able to give you an accurate hourly rate for your location.
2. How long should each chair massage be?
The duration of each chair massage will likely be influenced and determined by your company culture, the type of event or program you are planning, your intended outcome, and your budget.
A typical in-office workplace chair massage is 15 minutes. This allows the massage practitioner or therapist to concentrate on ALL of the high-tension areas: neck, shoulders, back, arms, and hands.
More than 15 minutes is a lovely treat, and many companies choose to go with an extra 5 to bump the session up to 20 minutes. However, a brief 10 or even 5 minute mini-massage is also beneficial, and shouldn't be overlooked.
Massage being offered in the workplace is generally and overwhelmingly considered to be a good thing, no matter how many minutes each person gets in the chair.
Remember: No one has ever said "Oh no, the massage team is in today"!
3. What is included in the cost of onsite massage?
Now that you know what the cost will be for onsite chair massage for your employees, you will want to know what is included.
Typically all the equipment and materials needed to ensure your massage event is a success are included in the cost - even relaxing music!
Chair massage services generally include:
administrative support and event management
a method of scheduling whether paper schedules are provided or an online system is offered
a reasonable distance of travel
ergonomic massage chairs
equipment set-up
music
hands on massage from a qualified and insured massage practitioner or massage therapist
sanitizing supplies (single-use face cradle covers, wipes and/or spray to clean the chair between guests)
practitioner / therapist breaks
equipment tear-down
At Massage At Work we also include post-massage survey's that help gauge the success of our clients events and gathers feedback for improvement.
Onsite Massage Event Administrative Support and Event Management:
Your massage partner will provide a team of people to ensure that everything goes smoothly and your event is a success. You should have unlimited phone and email support from a designated event coordinator prior to, during and following your event. Your point of contact will be able to answer any question or concern you may have and help you navigate any last minute changes if need be. This coordinator will staff your event and make sure that the practitioners have all the correct address and scheduling information they need for the day.
Practitioner/Therapist Wages / Tips:
It is always best to check with your onsite massage partner first, but you can expect that your practitioners'/therapists' wages will be included in the cost of your chair massage services, but tips may not be. Some companies automatically include tips on your bill, while others will expect practitioners/therapists to be tipped directly at the end of the event. On the other hand, there are companies that do not require, nor expect any tipping. Your massage partner should be upfront with what to expect when you book your event with them.
At Massage At Work we NEVER charge for, nor expect tips for any of our massage events.
Travel Expense / Parking Allowance:
In some cases your onsite massage company may charge a travel fee. This fee is generally only incurred when a practitioner must travel to a location outside their regular catchment area, or significantly outside a major city centre. Your massage partner should always pre-approve travel expenses with you prior to your event, they should never be an unknown expense when the invoice arrives. Likewise, any parking allowances offered to your practitioners should be included in your quote, or at the very least pre-approved prior to billing.
Scheduling:
Most onsite massage companys rely on a number of different ways to schedule an event. Most offer a manual scheduling option, a paper sign-up sheet you can print off, or various electronic/digital and/or online options, including Google sheets and specialized software.
At Massage At Work we offer both custom paper sign-up sheets and our clients' favourite, an easy online scheduling system that sends out auto-reminders via email and text so that no one misses their massage appointment!
Chair Massage Supplies:
Your massage practitioner will either use sanitizing wipes or spray to wipe down the massage chair between each massage. They will also replace a single-use face-cradle cover.
4. Are there any hidden fees?
Partnering with a reputable massage provider should mean there are NEVER any hidden charges. Your massage partner should always be upfront about any and all charges, including the hourly rate (and how many hours will be needed), whether there will be a travel or parking allowance for each practitioner, and any other charge that might be incurred (ie. credit card processing fees).
5. What is an onsite chair massage practitioner?
A certified chair massage practitioner typically refers to an individual who has received focused training specifically on chair massage. Many chair massage practitioners have also studied various other forms of bodywork and wellness modalities, that they may or may not incorporate into their massage, as well. Chair Massage practitioners specialize in giving massages intended for relaxation and stress-relief, which is ideal for the office environment and fits the goals of most companies. Massage Therapists on the other hand tend to focus on therapeutic and/or medical rehabilitation. Both certified chair massage practitioners and massage therapists are qualified and skilled at providing seated massage.
6. Are massage practitioners insured?
Your massage provider should be partnered ONLY with insured practitioners. In order to become insured, professional chair massage practitioners must either complete a recognized certification program specializing in chair massage or have taken and completed a massage therapy program.
At Massage At Work our practitioners are fully screened and vetted. We ONLY work with practitioners who hold both professional certification and are fully insured.
7. What will happen the day of our massage event?
Massage practitioners typically arrive 15-20 minutes before your event is due to begin. They will bring a massage chair, sanitizing supplies, and relaxing music and ask to be directed to the room or space where they will perform the massages. They will massage guests according to schedule and when the day is done they will pack-up and leave … simple!
8. Where should the massage chairs go?
A spare office or boardroom works perfectly, each chair and practitioner requires only a 6' x 6' footprint. A private, quiet space is ideal for a relaxing seated massage, but any empty, well-ventilated corner will do. Clothing remains on for corporate chair massage, so there is no need for a private space. We can work in almost any environment including busy tradeshow booths, noisy cafeterias, high-traffic common areas, even storage closets and supply rooms.
9. What do we need to provide?
Prior to your massage day, your massage partner will send through a sign-up sheet or a link to online schedules. Your company's massage champion will need to either broadcast the scheduling link or post the schedule and encourage staff to sign-up. On your massage day it is a great idea to provide a designated on-site contact from your company who can give the practitioners any printed schedules, show the practitioners to the room or space where they will be providing the massages, and direct them to the nearest washroom. The on-site contact will also be on-call for the day in case any questions arise. That's it!
10. Will clothing need to be removed and will lotions or oils be used?
Chair massage guests sit fully clothed and massages are given over the clothes. No oils or lotions are used so there's no sticky, greasy mess to wash off.
11. Do the massage practitioners need to take a break between each chair massage session?
Corporate chair massages are typically scheduled back-to-back. Practitioners only need 30 to 60 seconds between guests to sanitize the chair before starting the next seated massage. 10-30 minute breaks are generally scheduled throughout the day depending on how long your massage day is.
12. Do the practitioners need coffee or lunch breaks?
Yes … Massage is hard work! Your massage partner will schedule in appropriate breaks for the practitioners throughout your massage day.
At Massage At Work we handle all the schedule creation for our clients, and typically include rest and nutrition breaks every 1.5 - 2 hours so your hard working massage practitioners can recharge and get back to giving massages feeling refreshed and energized. Breaks also serve as a buffer and help to to keep the schedule on track. For events requiring 2 or more massage practitioners we work with your event schedule as well as stagger the practitioner break times. This allows your staff and VIP guests the most varied access to massage times. No need to figure this out on your own though, we make things easy for you by taking care of all your massage day scheduling requirements, including when to offer practitioners their breaks.
13. How do we schedule our massage at work day?
Each massage partner will have their preferred methods of scheduling, but generally there are two types available:
Paper sign-up sheets that can be posted in a common area, circulated around the office desk to desk, or left at reception.
Online where staff can enter their names either on a dynamic Google sheet or book an appointment with online scheduling software.
At Massage At Work our preferred method of scheduling is our easy online appointment system. Simply broadcast a link to your team and each employee books and manages their own massage time. It also sends out email and text reminders so no one forgets or misses out! Of course, online scheduling doesn't work for every company or every event so we'll present the scheduling options available, whether online scheduling, paper sign-up sheets, or first-come first-serve to find the type of schedule that will suit your on-site massage needs best.
14. Can I add more time or cancel massage hours if we don't need them?
Every massage provider will have their own policies and level of flexibility for making changes to a planned massage event. A good rule of thumb is that the further in advance of the event you can make your change requests the more likely they will be able to accommodate the changes.
Making changes the day of the event can be harder but should still be possible. Moving up a start time may be tricky, but extending an event due to a larger then expected participation rate is often doable.
At Massage At Work our practitioners can almost always stay over-time when needed. Simply let us know and we will extend your corporate massage hours to suit your needs (subject to practitioner availability). If you need to cancel any massage time please let us know in advance, we can usually accommodate the changes you need with 24 hours notice.
15. When should I book our massage at work day? How much lead time is needed?
This varies depending on the location and size of your event. Your massage partner will generally request 10 to 14 days lead time, however, most providers can often fulfill most requests with much less time, even in as little as 24 hours. Larger, multi-location, Canada-wide chair massage events, requiring multiple practitioners may require a number of weeks to organize and staff. It's always best to get in touch with your massage partner as soon as you know the final date for your event.
16. What about gratuities? Do I tip the massage practitioners for the chair massages?
Each massage provider will have a different policy regarding tips. It is always best to check with your massage partner first. Some companies automatically include tips on your bill, while others will expect practitioners/therapists to be tipped directly at the end of the event. On the other hand, there are companies that do not require, nor expect any tipping. Your massage partner should be upfront with what to expect when you book your event with them.
At Massage At Work we NEVER charge for, nor expect tips for any of our massage events. We have strict policies against practitioners accepting individual tips, and don't allow practitioners to accept tips or setup the dreaded 'tip jar'. Your employees have come to us to relax, not worry about if and how much they should be tipping out of pocket for a business funded treat. If at the end of the event a business wants to tip the practitioner they are free to do so, however it is not necessary nor expected. The biggest compliment a practitioner can be paid is when we receive a call for a repeat booking and the practitioner is asked for again by name!
17. Do we pay upfront or will we be invoiced?
Although it is standard to take a credit card number upon booking, most massage partners will bill for the massage day on the day of service. Payment is generally expected within 2 weeks.
At Massage At Work we typically send an invoice the same day as your massage at work day. For large on-site massage events we ask for 50% upfront, with the remainder invoiced on the date of service. You may choose to pay by credit card, e-transfer or cheque.
About the
Guide Authors: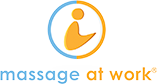 #1 in 5-star



Google ratings
in Canada
185,422
Stress-melting massages given
As Canada's largest provider of onsite mobile chair massage services, we are helping Canada's leading employers get the most from their corporate massage programs.

This guide is designed to answer your questions on the key areas of corporate mobile massage from the benefits of chair massage in your workplace to deciding who should pay for the massage sessions. If you're wondering if massage in the office is right your company or simply overwhelmed planning your first event this guide is here to help.
Chapter 1: Building a business case
Chapter 2: Common mistakes to avoid
Chapter 3: Planning your mobile massage event
Chapter 4: Running your corporate massage event