The Benefits of Office Chair Massage for Your Business
Businesses want to know if office chair massage can cost-effectively help their bottom-line. It's easy to understand that an office chair massage program can reward employees and lower stress, but will that investment translate into a net benefit for the company?
A quick intro: What is Office Chair Massage?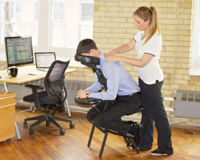 Office chair massage, also called mobile chair massage or onsite seated chair massage, is generally seen in high traffic, high stress locations like trade shows, conventions, and airports but it is also used a lot in workplaces such as offices, call centres, factories and warehouses. Companies utilize corporate chair massage services during their health and wellness week, and for their employee appreciation days, corporate, sporting, and VIP events. Chair massage is an excellent way to increase attendance, foot traffic, and morale, and decrease stress.
Benefits to the employees:
Studies involving workplace stress show it has a significant impact on an individual's health. Stress can be linked to an increase in occurrences of of headaches, backaches, eye strain, neck pain, lowered immunity to sickness and infections, high blood pressure, ulcers, and heart disease. Stress takes an emotional toll and can be linked to heightened levels of depression, anxiety, listlessness, poor concentration, irritability and anger.
When onsite chair massage is offered to employees a company is taking a concrete step towards combating stress and improving employee wellness. Employees who take part in the massage program feel valued and that their hard work is appreciated. This recognition helps employees move from a high-stress negative mind-space back to positive one, and they return to work feeling energized, refocused, and productive.
10 Benefits of Chair Massage for Employees:
Lowers anxiety
Decreases stress
Relieves muscle pain and headaches
Increases circulation
Lowers blood pressure
Boosts the immune system
Improves quality of sleep
Increases flexibility and mobility
Enhances overall sense of health and wellbeing
Heightens feeling of being valued and cared for
A company-paid chair massage leaves employees and guests feeling energized, rejuvenated, valued and relaxed. Massage positively affects your body, mind and your sense of well-being and happiness.
Benefits to the company:
It's easy to understand how a significant amount of the stress in someone's life could be work related. As a result, Canadian businesses are operating with a high number of stressed out employees. This stress builds up over time and can create toxicity in the workplace, resulting in a negative work environment, lower productivity and a high turnover rate.
Implementing a corporate massage program is a great way to upgrade the work experience for everyone involved, and provides the following benefits:
10 Benefits of Office Chair Massage for the Employer:
Increases morale and enhances corporate culture
Creates an atmosphere of trust and loyalty
Increases staff retention
Reduces stress and anxiety in the workplace
Reduces sick days and absenteeism
Reduces the high cost of employee turnover
Helps attract top talent to the company
Increases accuracy and creative thinking
Decreases workplace injuries
It's one size fits all and is more memorable than a staff lunch!
What Massage At Work's clients are saying
We've had the honour of helping a wide range of Canadian companies with their onsite massage programs. From Fortune 500 companies headquartered in major city centers to multi-location franchise businesses, from call centres to industrial kitchens, and from schools to medical and dental offices. Many of the programs have been up and running for years, and we've been going onsite month after month to massage their employees.
If we could identify one common theme with our clients it is simply this - the leadership understands that their people are truly their best asset. To them, onsite massage isn't a perk, it's not a nice-to-have reward, its an important part of the message they try and send to their staff day in and day out - which is "you matter" and "you are appreciated". Massage is never the only way they send this message, these organizations are great places to work and could easily be seen as leading employers in Canada. To them, onsite chair massage is a cost effective way to round out the collective effort to acknowledge and reward the good work their team is doing day in and day out.
The following client perspectives were created from excerpts of several phone interviews we have had with clients over the years. The scenarios and names have been altered for privacy purposes.
Corporate office feedback:
We massage their 30 administrative employees
Mike, their Vice President says:
"A good portion of our team is on the phone all-day everyday, while others are doing a lot of data entry and analysis. The common issue with our team is the repetitiveness and feeling of 'grind' that can sneak into peoples day to day mood. When our chair massage practitioner arrives it's like the holidays spirit has taken over our office. The team's mood shifts from a feeling of 'we have to be here' to 'we want to be here'. Massage day is definitely one of the highlights of the month, and it's a great way to take a break from our everyday routine. We've had our Massage At Work program in place for almost 7 years and it's done wonders for our company's morale"
Large retailer feedback:
We massage their 300 front-line staff on a quarterly basis
Petra, their HR coordinator says:
"When we have our end of quarter sale the traffic in our store is intense. Our entire team, regardless of if they are on the floor with customers, in the backoffice, or in the warehouse is going non-stop. It's exciting, but also stressful. It often feels like we are cramming a months worth of work into just a few short days. So this is when we normally have Massage At Work in.

We have the massage practitioner set-up in the back office and we work out schedules for each department so that everyone gets a chair massage. The team has come to count on them, they are like a mini-vacation in the middle of all the hustle and bustle. I have seen front-line staff who are having a challenging day go in for their massage, and then 15 minutes later come out a completely new person. They are all smiles and glad they came into work that day, despite the frenzy they are heading back into.

So this is how we use Massage At Work, it's an escape during a busy few days, and it's something that helps everyone stay positive and happy to be at work."
Professional services feedback:
We are in massaging their sales team of 40 during their busiest sales cycles.
Vlad, their Vice President of Sales says:
"There is a lot of pressure in a sales environment where quota's need to be met in order for everyone to achieve their targets. In the final week of the quarter nerves start to fray and people start to feel the stress of the looming deadline. We have sales incentives in place to reward high achievement, but we also wanted a cost effective way to keep everyone positive and moving forward while we were in the thick of things.

We brought in onsite chair massage as a way to thank the team and to let them know we had their back. We tried having massage therapists offer table massage in but people weren't signing up. They weren't comfortable with removing their clothing at the office. We switched to chair massage because [Massage At Work practitioners] could setup in our spare boardroom and the staff felt a lot more comfortable with the more casual nature of the massage.

Of all the perks we give our staff, massage has one of the highest participation rates, so that's an indicator to us we're making a good choice. We're happy with massage and see it as a core component of our mandate to reward and retain talent in a line of business where that can be challenging."
Small manufacturer feedback:
We massage their team of 20 the day after they process a large order.
Tran, Production Manager says:
"Our team is on their feet for most of their shift. We tried running contests with swag and prizes, but the minute after the winners had collected their prizes the energy on the floor went right back to that 'just another day' feeling we were trying to avoid.

We connected with Massage At Work and developed a program that would have our team members step off the line one at a time to get a 15-minute massage. The results were obvious an hour into the massage day even after only a few people had finished their massages. The staff who had their massages walked back to the line with a dreamy look on their faces. There were giggles and laughter at the 'donut face' one can get from sitting with their face in the chair. It was obvious that massage had taken their stress away and they were more than happy to talk about how great an experience the massage had been with everyone else on the line. The feeling was contagious, and those still on the line where infused with the positivity the massaged employee came back with.

So for us, onsite chair massage is simply about helping our team hit the collective reset button. The massage helps everyone come back to the line with a little extra spring in their step, and for us that is what makes all the difference and why we keep having Massage At Work back in."
About the
Guide Authors: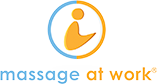 #1 in 5-star



Google ratings
in Canada
184,400
Stress-melting massages given
As Canada's largest provider of onsite mobile chair massage services, we are helping Canada's leading employers get the most from their corporate massage programs.

This guide is designed to answer your questions on the key areas of corporate mobile massage from the benefits of chair massage in your workplace to deciding who should pay for the massage sessions. If you're wondering if massage in the office is right your company or simply overwhelmed planning your first event this guide is here to help.
Chapter 1: Building a business case
Chapter 2: Common mistakes to avoid
Chapter 3: Planning your mobile massage event
Chapter 4: Running your corporate massage event