4 ways to set up an employee massage schedule
There are a number of options when scheduling a massage event for your team. The one you choose should leave your employees feeling relaxed, happy and appreciated. It should also leave you, the organizer, feeling that your budget has been well spent.
When scheduling a chair massage event for your office or workplace there are a few common questions. Let's address these first:
1. Do we need to schedule breaks between each chair massage session?
Massage sessions are quite often booked back-to-back with no break between each session. Sanitizing the chair between sessions only takes a moment or two and can be performed while the practitioner is greeting the next guest.
2. Will the massage practitioners require breaks throughout the day?
Your massage partner will likely schedule rest and nutrition breaks every 1.5 to 2 hours for the chair massage practitioners. Massage is hard work! These breaks also serve as a buffer and help to to keep the schedule on track. For events requiring 2 or more massage practitioners, your massage partner will work with your event schedule to stagger the practitioner break times so there is never any blackout minutes. This allows your staff and VIP guests the most varied access to massage times. No need to figure this out on your own though, a good massage partner will make things easy for you by taking care of all your massage day scheduling requirements, including when to offer practitioner's their breaks.
3. What is the best way to schedule onsite massage sessions for my staff?
This depends on your event! There are a number of options, your massage partner will help you choose the best one for your specific event or corporate massage program. The options are:
Option 1: Online Scheduling
Many massage partners offer online scheduling as an option. It is by far the most popular as it allows all employees to quickly and easily select a massage time and manage their own appointment. Most online schedules offer the added bonus of having the capability of sending out reminder emails and texts before appointments so no one forgets and misses out.
Option 2: Paper Sign-Up Sheet Prior to the Massage Day
Paper sign-up sheets work well for many companies, especially those that have employees without computer access for each employee (i.e factory environments). Posting a sign-up sheet in a cafeteria, lunch-room, or other common area is an easy way to both get the word out about your upcoming massage at work day as well as have people sign-up for a massage session.
Option 3: Sign-Up Sheet at the Massage Event
In high traffic environments, such as a luncheon, conference, product launch, or picnic, you may choose to go with a sign-up sheet that allows attendees to pick a time and come back later. The sheet can have pre-determined appointment times so guests can return on their own, or depending on the type of event, it could simply have a numbered list with names so the chair massage practitioners can call out the next name on the list.
Option 4: First-come First-serve Seated Massages
This scheduling option is best suited for any event where you want to get quite a lot of people into the massage chairs as quickly as possible. Trade shows, conventions, sporting events, golf tournaments, special events, and health fairs are perfectly suited to first-come-first-serve chair massage sessions.
About the
Guide Authors: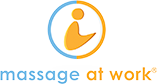 #1 in 5-star



Google ratings
in Canada
184,400
Stress-melting massages given
As Canada's largest provider of onsite mobile chair massage services, we are helping Canada's leading employers get the most from their corporate massage programs.

This guide is designed to answer your questions on the key areas of corporate mobile massage from the benefits of chair massage in your workplace to deciding who should pay for the massage sessions. If you're wondering if massage in the office is right your company or simply overwhelmed planning your first event this guide is here to help.
Chapter 1: Building a business case
Chapter 2: Common mistakes to avoid
Chapter 3: Planning your mobile massage event
Chapter 4: Running your corporate massage event